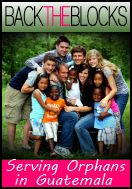 Many of you in blog world already know the Block family and have followed their journey for a while. If you do not know them, please let me introduce you.
The Blocks have 4 bio kids and 5 adopted sweeties and they have recently sold everything, packed up what was left and moved to the mission field full time. They are currently serving in an orphanage in Guatemala, called the Eagles Nest.
I am constantly amazed by their faith in God and their love for others. I have never met Amy, but she is on my list of "sisters I must meet". Please follow their journey and pray for them. They need us, but trust me, we need them. We need to be inspired and encouraged by their selfless hearts. They need us to pray for them and support the babies they are taking such good care of. Wait until you see the pictures of these precious babies..... you might just want to run get a few of them.
"Religion that God our Father accepts as pure and faultless is this: to look after orphans and widows in their distress and to keep oneself from being polluted by the world." James 1:27