That's how I feel right now..... like I have too much to share, but I'm going to try and squeeze in the most important things real quick. I've had several things on my mental list of blogpost and now I need to drop 3 or 4 at once.
If you LOVE orphans.... please don't check out because you expect this to be a "way too long" blog post. I'll keep it short and to the point... Promise :)
First of all, our friends, the Wilbanks need your prayers. Their sweet daughter in India especially needs our prayers for a miracle. Please check out Bella's story on their blog and help us pray her home by Christmas! I know they are grateful for your prayers :)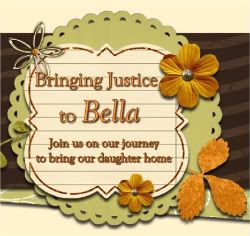 Next, we are so happy for our friends, Mark and Heather who are adopting a baby boy in just a few weeks. They have been on a domestic adoption journey for several months and God has led them to their birthmother. They were just matched in the last few weeks and their baby boy will be born very soon. Therefore, they need to raise lots of money, very quickly. Please visit their blog to check out their cool t-shirts and other ways you can help them bring their baby home. You can visit their blog HERE!
This one has been on my blog list since last week. On Thursday I went to the mail box and this was waiting inside for me:
Thank you Lynsey and Kari for this wonderful birthday present! Y'all are awesome girlfriends :)
Anyhow, I came in the house and snapped a picture of me with my new book and sent it to Shawn. He responded from his seat at the Catalyst Convention and told me that he was sitting in front of Katie at that very moment watching her receive scholarships for ALL 13 of her girls. How cool is that?!!! But, YES, I was a bit jealous. Ok, I was very jealous that I was thumbing through this new book while he heard from Katie in person. Not fair!
Earlier that morning, a friend sent me Katie's new promo video. Turn my music down and watch it.... this servant of a sister challenges me to sacrifice more of my life for the least of these!
This sister ROCKS!!!!
Ok, last thing (see I told you I could share a lot in a short time:).... I must confess that even though I know we (Christians) ARE NOT all "called" to adopt, I still catch myself trying to talk other families into adoption. Yes, we ARE all commanded to care for the orphan in some fashion, but adoption must be the will of our Father. It is serious business and we should not take it lightly. Not that I'm downplaying the seriousness of caring for orphans without physically adopting them. As a matter of fact, I have recently made a new friend who has never adopted, but she is running orphanages in several countries including Uganda. She and I had lunch last week and it blows my mind to hear all of her stories and to see the impact she, with the help of many others, is making in the lives of hundreds of orphans. I'm sure I will be sharing a lot about all that she's doing and how you can help her organization be the hands and feet of Jesus. Actually, she's trying to arrange a little "trip" for me, her and Lexie, to a faraway land where lots of beautiful little brown kids live........ I bet you can't guess where it is ;).( Lex and I are waiting until we have all the details before we ask Daddy for permission. HeeHee!!!)
Anyhow, I don't know how I got so sidetracked in that last paragraph, so back to the point. No, we aren't all called to adopt but we certainly need to let God be the one to tell us whether we ARE or NOT. When you ask God about adoption, He will speak, I promise.
Today I read an article by Russ Moore and it reminded me that we (I) should never try to "talk others into" adoption. Instead, we (I) should encourage them to pray and then pray for them. Pray that God will speak clearly and boldly. Russ reminds us in this article that adoption is risky. It's often times ugly and even disappointing. However, doesn't that sound much like raising biological children. Having children period is risky, can be ugly and sometimes it's even disappointing. If you are considering adoption, you should read this article and then continue in your prayers. Please don't let it be a discouragement, just enlightenment.
Sorry for so much randomness. This is actually a picture of my life right now. Trying to do way too much in a hurry! I'm sure most of you mommas can relate :)